Alex Pentek – Artist Statement / Biography
"The procedure of art is the same as the procedure of rebellion which is, to resist the real while conferring unity upon it." -Albert Camus
The following describes my methodologies, key concepts and research interests.
As we view art through the unique lens of our world view, we complete the work by giving it new meaning, according to what Ernst Gombrich calls the 'beholders' share'. I aim to create openly challenging and engaging work that communicates on this visual, intuitive level by basing the ideas, forms, and materials on my reaction to a chosen context. Without any specific formula, using my experience in a growing range of materials allows me to work and think in this way. I am excited by the idea of creating work of such a scale and impact that it connects with the viewer to become a defining public icon, enhancing a sense of place and extending traditionally perceived boundaries between the viewer, artwork, and context. Recently I have become interested in exploring 'site as discourse' through Hannah Arendt's idea of the public sphere as the agonistic site for critical public agency.  
Having created over 30 large scale public realm works in Ireland, UK, Canada, US, and Australia, I was most recently awarded and completed the commission to create a large scale public realm work in Washington DC. Installed in August 2021, this reflects the achievements of black activist Charles Hamilton Houston who abolished the 'Jim Crow' laws of racist segregation after serving in the 1st world war. 
My gallery-based practice explores contemporary scientific and philosophical ideas in temporary non-comodifiable mediums such as folded paper and sound performance which have been exhibited in Ireland, UK, Germany, US, and Australia. To make the paper elements of this work I employ the discipline of rigid origami to create complex tessellated surfaces that symbolize a holistic ethos, where each folded facet is interconnected. Making this work requires methods inspired by my experience as a drummer, where muscle memory is employed through rudimentary exercises to allow an intuitive approach. Similarly, through a series of repeated folds, the cognitive processes needed to achieve some of these more complex works are extended beyond the physical confines of the body into the material itself. This material-led research particularly interests me in relation to Extended Cognitive Theory proposed by Any Clarke and David Chalmers.
Future research interests include exploring the success and failure of language through the late philosophy of Ludwig Wittgenstein. I also aim to continue to investigate how origami can inform materials-led research such as in robotics education and how robotic kinematic elements may become incorporated into my work. In June 2021 I co-presented a paper linking origami with robotics at the Engineering Education for Sustainable Development annual conference. I am an artist in residence in the new Design Thinking program, UCC and interests in maths, science, origami, interconnectedness, and music inform my work on both practical and philosophical levels.
In 2022 I completed an MFA in Art in the Contemporary World at the National College of Art and Design, Dublin, Ireland, where I researched the fold as a site of transformation. I was also recently awarded an artist's residency at the Centre Cultural Irlandais, Paris in 2023.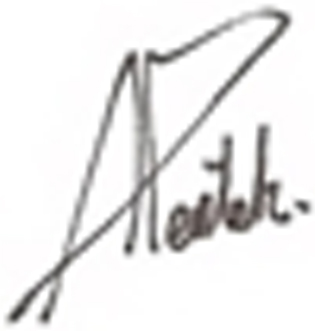 Further information:
UNITY. 2021. Washington DC.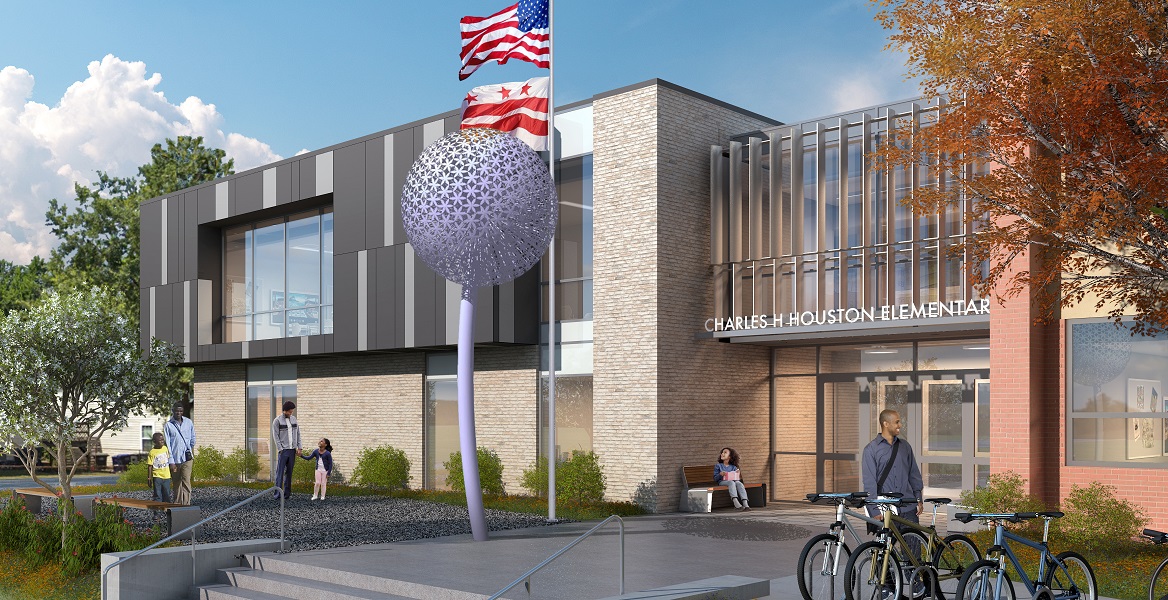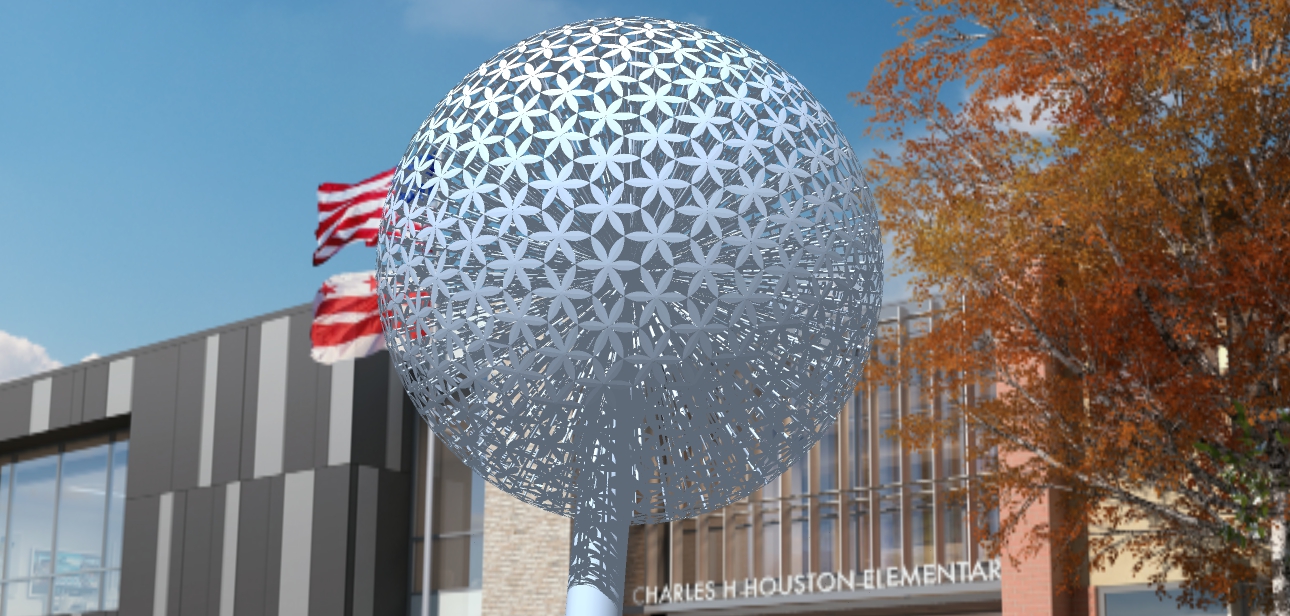 Montage image of the proposed installation.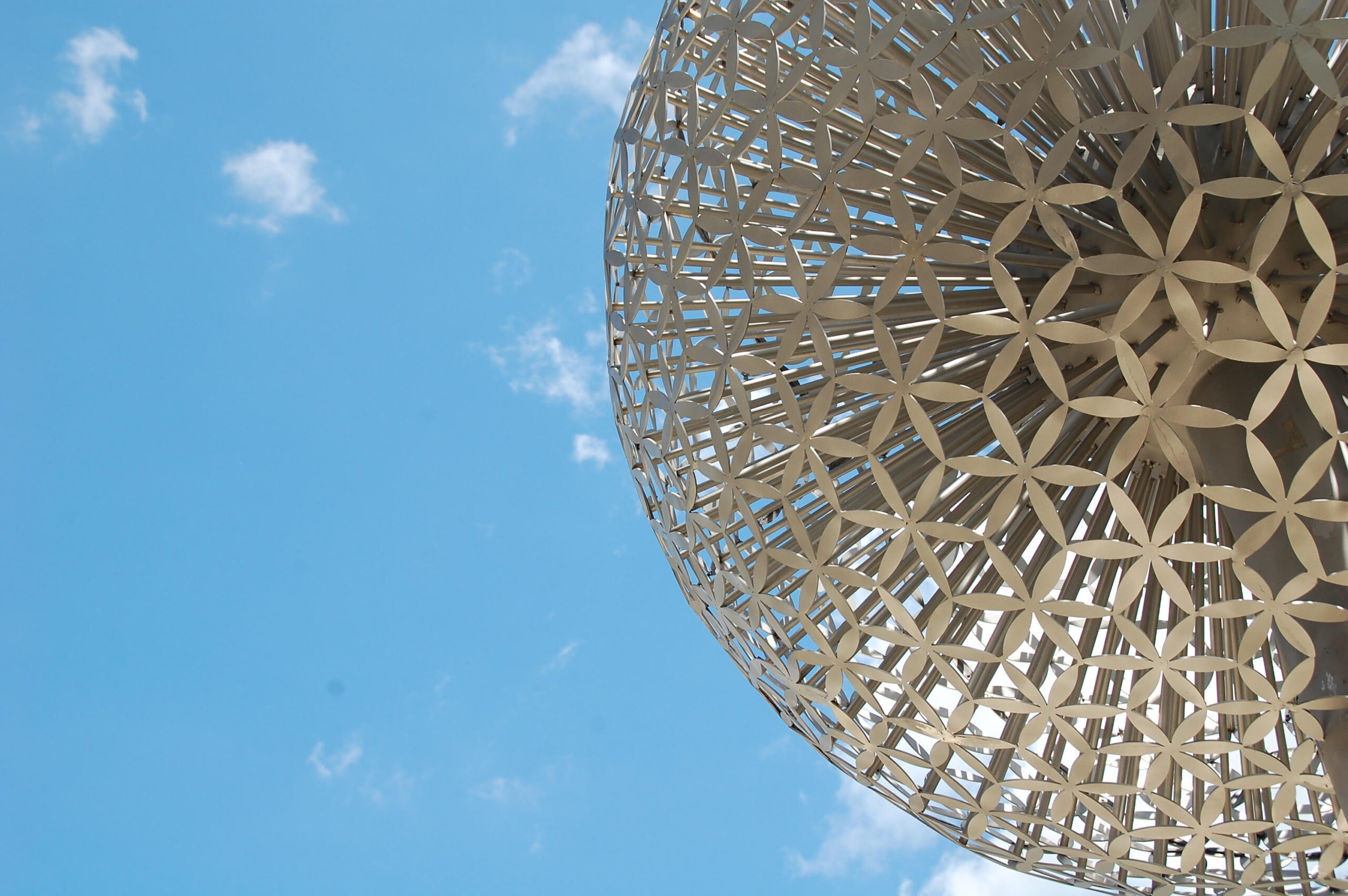 Actual image of the completed work. H. 5m. Laser cut stainless steel. 2022
In 2021 I completed the commission to reflect the achievements of black activist Charles Hamilton Houston with this work in Washington D.C. Having experienced racism while serving as a 2nd Lieutenant Field Gunner in the 1st world war, Charles H. Houston vowed to study law and he later abolished the racist segregation 'Jim Crow' laws in the US among other achievements. Titled Unity, this 16ft laser cut steel Allium flower symbolizes unity and staying true to one's principles for an integrated world. This work was selected by a jury in an open international competition on behalf of the Department of General Services, (DGS), Government of the District of Columbia. Huge thanks to Red Pepper Forge, Maryland, for fabricating this complex work to such a high finish.
An interview about the inspiration behind this idea on the RTE1 Ryan Tubridy Radio Show on June 23rd, 2020, as well as a recent feature in the Irish Examiner can be found on the links below.
https://radio.rte.ie/radio1highlights/alex-pentek-on-the-ryan-tubridy-show/ 
https://www.irishexaminer.com/lifestyle/artsandculture/arid-40694549.html
February 2020: Invited by Dr. Guangbo Hao, Senior Lecturer in Robotics and Electrical Engineering, UCC to deliver a series of lectures and workshops on advanced modern origami techniques to Ph.D. Robotics students. This collaboration was awarded European Funding through the Developing Disciplinary Excellence in Learning, Teaching, and Assessment fund.
March 2020, I co-authored a conference paper titled Art into engineering: Demonstrating how origami creativity can inform robotics education.  Guangbo Hao[1] Alex Pentek [2]. This paper has been accepted to be presented at TALE International Conference on Engineering and Education, Japan. (Online details to be confirmed).
In August 2020, Dr. Hao and I used this research to collaborate with Dr. Briony Supple, and Dr. Siobhan O'Neil, (Centre for the Integration of Research, Teaching, and Learning, UCC), to develop a new Makerspace at UCC and together we co-authored a second conference paper for TALE titled –Beyond Paper Folding: Origami and Makerlearning to Enhance Interdisciplinary Teaching in Universities. (Results in October). 
December 2019: Invited by Dr. Barra O'Donabhainn, Department of Archeology, UCC to present a talk at a 2-day international conference titled The Missing: Themed around missing persons and with forensic scientists, academics, police detectives and archeologists from around the world, this talk was titled Challenging Collective Remembrance.  This explored my experience with creating meaningful artworks that historically remember difficult and tragic histories such as the Great Famine in Ireland, the 1847 Choctaw Native American donation, and the 2008 IRA terrorist bombing in Omagh, Northern Ireland.  (See portfolio).   
September 2019: Invited by Yvon Bonenfant, Head of Theater Studies, University College Cork to collaborate on designing an interactive acoustic sculptural intervention that will allow users to create improvised performances using their voice. This is designed specifically to cater to a young adult audience with mild to moderate learning disabilities. 
September 2019: Awarded Create funding in collaboration with Tadhg Crowley, Senior Curator – Education + Community, Glucksman, University College Cork to research and deliver a series of exploratory workshops with Cork Traveller Women's Network and members of the Traveller Community. It was only in 2017 that the Traveller Community was officially recognized by the state as an ethnic minority group in Ireland; "A people within its people".
Extracted from the Spring 2018 edition of the Irish Arts Review. The Irish Arts Review is Ireland's leading art and design publication. www.irishartsreview.com 
2019 – Invited to create new works in paper for a solo exhibition titled Implicate & Explicate Order, at Uillinn, West Cork Arts Centre, Skibbereen, County Cork, Ireland, opened on 24h of May.  More about Uillinn: West Cork Arts Centre program can be seen here: https://www.westcorkartscentre.com/
A short essay about this work set within the framework of contemporary art practice by Prof. Fiona Kearney, Director of the Glucksman Gallery, UCC, Cork, Ireland, can be seen here:
Implicate & Explicate Order. Prof. Fiona Kearney. 2019.
2019 – Developed a series of origami-inspired sculptural elements in collaboration with award-winning dance performance artist Luke Murphy for his dance performance Carnivore, exhibited at the following dates and venues:
Uillinn, West Cork Arts Centre. Co. Cork, Ireland.                                 24th /25th May 2019            Visual, Centre for Contemporary Art, Carlow Arts Festival.                           7/10 June 2019   Cork Midsummer Festival, Crawford Gallery, Cork.                                      17/18 June 2019          CIACLA, Los Angeles.                                                                                             15/17 July 2019          Sidekicks Festival, Munich, Germany.                                                      10-13 December 2019            The Welcome Trust, Kings College, London, England.                               19 December 2019
More about Luke Murphy and Attic Projects can be seen here: https://www.atticprojects.com/
2019 – Created a pop-up pavilion by invitation for Design Pop Festival, Celebrating Cork as a center of contemporary design, culture, and cuisine running in Cork City Centre from 17/19 May 2019. For more information see Design Pop 
In 2018, I was invited to participate in Earth Wind & Fire: Made in Cork Contemporary by Crawford Gallery Curator Anne Boddaert, where I created a new work titled Unfolding Space. This was a development of ideas I had begun to explore earlier this year in the RHA inspired by origami surfaces currently being used as a model for spiral galaxy formation and can be seen on the Exhibitions page.
I am excited to be working on a short film about some recent paper installation works with Filmmaker Paddy Cahill over the coming months.
2018, invited to create and exhibit a new paper installation entitled Folded Space for the Royal Hibernian Academy (RHA), Ely Place, Dublin by acting Curator Victoria Evans. Ran from January until April 2018, alongside exhibitions by Grayson Perry, Elizabeth Magill, Niall de Buitléar, and a selection of Irish/American landscapes. (Please see the link below for a short film of the work by Paddy Cahill and RHA gallery information).
In 2016 Urban Oasis was selected as the winning idea for a series of sculptures at Surfers Paradise, City of Gold Coast, Queensland Australia. The work was completed and delivered August 2018 and has recently been given the all clear for new location in the City of Gold Coast.
A very short film clip about the project can be seen here:
https://www.youtube.com/watch?v=HWGPXVa5xB8
The following is taken from the announcement of the winning project on http://artsculture.cmail19.com/t/d-l-irlulry-ihdljluui-m/
Urban Oasis: revealed


An Urban Oasis will soon sprout from the ground in the centre of the Gold Coast's bustling tourist precinct. The winning design for this major public art commission was created by international artist Alex Pentek. Titled Urban Oasis, it comprises four stainless steel ferns, standing eleven metres tall and complemented by a series of ground panels.The artwork is an impression of the shield fern which once grew in abundance at this location. The structures will curl, stretch and appear in various stages of growth as they emerge from the concrete at each corner of the intersection of Surfers Paradise Boulevard and Elkhorn Avenue.This significant public art project, to be installed by April 2017, marks the pivot point between our vibrant nightlife in Surfers Paradise and our city's cultural heart – the cultural precinct in Evandale. An independent jury selected the winning design from five final entries the jury's recommendation was endorsed by Council at its meeting on 24 June 2016."This idea was inspired by the area's recent history of as one of the most diverse sub‐tropical littoral rainforests in Australia, (which in some cases even grew back after it was cleared). It has been my aim to capture the imagination of the public visiting this urban oasis by depicting the contrastingly delicate impression of Shield Ferns that once grew in abundance here. Showing different stages of growth, their monumental scale together with a series of ground panels symbolize the importance of this heritage and our place within a broader natural order".– Alex Pentek
Watch the video and delve into the artwork.Information: moregoldcoast.com.au/publicart
I was very grateful for the following coverage of Urban Oasis in Irish Arts Review, Winter edition 2016, kindly written by the late John Mulcahy.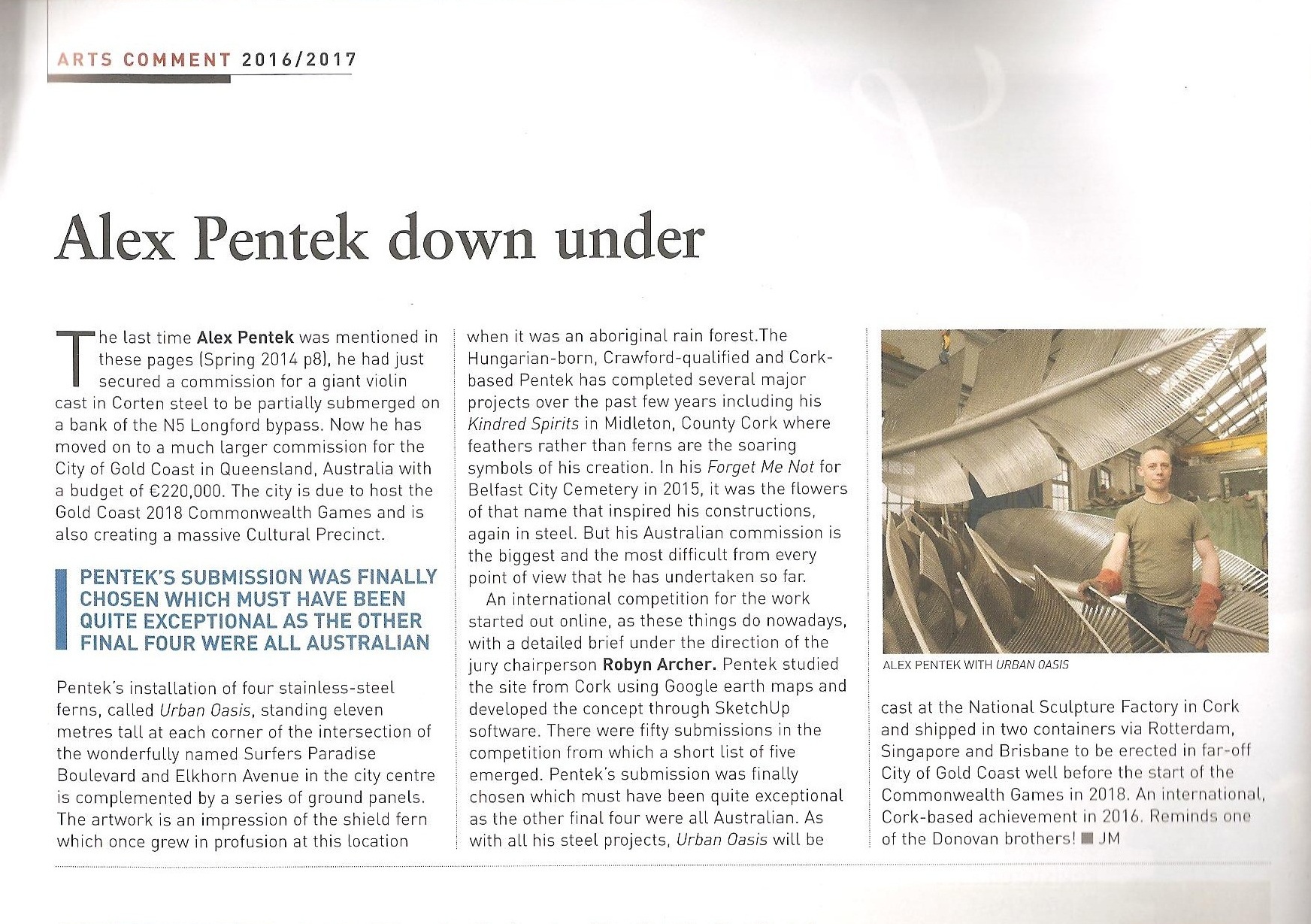 2015- Awarded and completed Kindred Spirits, a permanent artwork commemorating the 1847 Choctaw Nation's donation to Ireland during the Great Irish Famine.
Drone footage by Brian Martin, Drone Ireland.
A 3D walkthrough of the idea can be seen on https://vimeo.com/82176519
In 2017 Choctaw Chief Garry Batton and a number of his Council members and friends attended the official launch of the sculpture in Midleton, County Cork.  They later received official recognition for this act of kindness by President Michael D. Higgins in Dublin, who said that this artwork "speaks out to us across oceans and generations" during his opening speech at the Arts and Culture Garden Party at Áras an Uachtaráin, 2017. 
Since being installed, Kindred Spirits continues to receive international attention and media coverage in the U.S., Ireland, and Australia, including RTE News, Nationwide, Fox News and various TV stations in the US and abroad. It has also featured in the Russian Times, on Radio 1 Ryan Tubridy Show and on BBC World Service.
http://www.washingtontimes.com/news/2015/apr/6/ireland-recognizes-gift-from-choctaw-nation/?page=all
2015- Forget Me Not is a permanent artwork selected by open international competition to remember those buried in the number of large unmarked plots at Belfast City Cemetery. Depicting two large scale bronze forget me not flowers that form an archway with many unopened buds, this commission also symbolizes the thousands of unbaptized children laid to rest in unmarked 'poor ground' plots nearby and was officially launched by Councillor Arder Carson, Lord Mayor of Belfast and Suzanne Lyle, Head of Visual Arts with the Arts Council of Northern Ireland as part of the Building Peace Through the Arts program.
2014 – Created a sound-scape with sound artist Mick O'Shea using electronic variables and drums to a live cast iron performance by visiting American Artist / Lecturer Matt Toole which can be viewed on   https://vimeo.com/111525966
2014 – Created a series of new paper works for a solo exhibition, Rudolf Heltzel Design, Kilkenny Arts Week, Kilkenny, Ireland.
2014 – Created a 4 m tall folded paper installation Transcending Column for group show Translucent Flag,  at MART Gallery, Dublin, in May.
2014 – Completed Hidden Landscape, a large scale landmark sculpture for Longford City, Ireland, (Irish Arts Review, Vol. 31 P.8) .
2014 – Completed large scale perforated bronze origami sculpture for Ashton School, Cork City, Ireland.  https://vimeo.com/73732474
2012 – Awarded two large scale public sculpture commissions in counties Longford and Galway, both of which were since completed at the National Sculpture Factory, Cork, Ireland. The same year I also completed 'Rabbit', which is a landmark public work for Ashbourne, Co. Meath, Ireland. These can be seen under Portfolio and Studio headings and also:   http://papercopia.com/PentekRabbit.html
2011 – Created a series of large-scale permanent works for  Burlington city, Ontario, Canada, http://nationalsculpturefactory.com/?page_id=1416
2011 – Created a temporary paper installation The Intimacy of Distance for Gravity, curated by Peter Murray at the Crawford Municipal Gallery, Cork.
2010 – Shortlisted to one of two finalists in an international competition for a landmark public sculpture overlooking Kangaroo Point, Brisbane, Australia. Though coming 2nd, this idea gained an underground following with its own anonymous web site:
LINKS:
Southern Star 28th January 2019
http://www.brisbanetimes.com.au/queensland/new-surfers-paradise-sculpture-gets-closer-20160225-gn3r8n.html
http://www.washingtontimes.com/news/2015/apr/6/ireland-recognizes-gift-from-choctaw-nation/?page=all
http://www.realtimearts.net/feature/Ten_Days_on_the_Island/8484
http://nationalsculpturefactory.com/?page_id=1416
http://northernirelandvenice.com/news/2008/new06112008b.html
http://papercopia.com/PentekRabbit.html